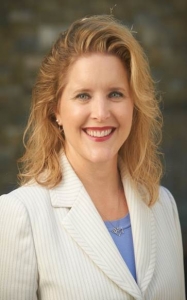 Kristin Howell, a Senior Portfolio Manager with Meissner Jacquét Commercial Real Estate Services for sixteen years, led the San Diego Chapter of the Building Owners and Managers Association (BOMA) in 2015, after serving on the board for six years.
Kristin (KH) was recently interview by Katie Thisdell of the Daily Transcript (DT) for a series on San Diego's leaders in real estate, development and construction.
DT: How did you get interested in real estate?
KH: My first job was in a little hot dog stand owned by the landlord of the shopping center where it was located. They were out-of-towners, and needed someone locally to be their eyes and ears so they hired me. When I graduated high school, they offered me a job at their corporate office in San Francisco and, BOOM! The rest is history.
DT: Tell us about your job.
KH: I'm a Senior Portfolio Manager at Meissner Jacquét, which means I oversee a team of commercial property managers who handle day-to-day operations of the properties in my portfolio. My role as the client contact is to handle lease renewals, construction management oversight, and any special projects that might otherwise require advising in an effort to maximize an asset's net operating income.
DT: What motivates you to come to work?
KH: I enjoy a challenge. I like being able to help find positive resolutions to difficult problems. I discovered that I really enjoy problem solving, which commercial real estate management provides plenty of.
DT: What did you learn while president of BOMA's San Diego chapter, and being on the board?
KH: I've learned that I have to surround myself with smart people of good character. There are so many great ideas, people just need to be empowered to release their creativity. I've also learned that commercial real estate needs to pay more attention to the government. Lawmakers, whether they are at the city, state, or federal level, propose legislation that impacts the commercial real estate industry and the players in it.
DT: What are you most proud of?
KH: In terms of government affairs, I'm proud of BOMA San Diego's efforts to challenge the linkage fee and negotiate a compromise that helped provide additional money for affordable housing, while balancing that need with the concern over impacts to job creators.
DT: What have you learned about government, at all levels, and its relationship with the commercial real estate industry?
KH: Whether commercial property managers, building owners, or service providers, we must respond and voice our concerns when legislation or policies are proposed. We must help lawmakers understand that commercial buildings are where Americans go to work, and therefore, our industry is vital to economic growth. Laws that add to construction costs or building operating costs are going to impact occupants, employers, and the economy.
DT: This year San Diego faces challenges from both the ongoing drought and El Niño. How is BOMA working with its members to discuss the potential impacts to commercial real estate?
KH: BOMA has been preparing for the drought through proactive implementation of extensive water conservation measures. These include: landscape conversions, installation of smart meters, replacing HVAC systems, hooking up to the "purple pipe," and installing water-wise fixtures in commercial space, when feasible, among many others.
Additionally, BOMA supports alternative, locally-controlled water supplies, including desalination and "Pure Water" to help protect the San Diego region from statewide shortages, and we continue to work with decision makers on ways to conserve water in a cost-effective, incentive based manner, that helps protect the economy and jobs.
In terms of the other end of the spectrum (too much water), BOMA San Diego's Emergency Preparedness Committee has created resources for emergency response planning.
DT: What advice do you have for people just starting in the commercial real estate industry?
KH: Commercial real estate management is not for the weak and it's not glamorous, but you will never be bored, you will never have the same day twice, and you will never stop learning.
To learn more about Meissner Jacquét's team and its services, visit www.meissnerjacquet.com or call 858-373-1234.
Sources:
The Daily Transcript by Katie Thisdell, https://sdtranscript.com/subscriber/sdtstory.cfm?sdtid=945273
Meissner Jacquét Commercial Real Estate Services