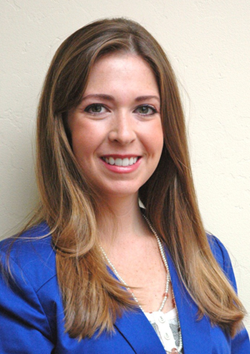 The NAIOP San Diego Developing Leader program was established in 2005 to provide a networking platform to enhance emerging careers for professionals aged 35 and under through education, mentorship, community involvement, and peer support in the commercial real estate industry.  The program aims to establish leadership, develop programs and services, give back, outreach to local universities, and provide opportunities for giving.
With over 200 participants, the Developing Leaders make up a large portion of the NAIOP San Diego chapter.  Danielle is actively involved with the Developing Leaders program and NAIOP San Diego, and sits on multiple committees.  Danielle's 7+ years of experience in the commercial real estate industry, coupled with her marketing and sales efforts in the commercial real estate management sector in San Diego County, allows her to provide a unique perspective to the Council.
After receiving a Bachelor of Business Administration with an emphasis in Real Estate from the University of San Diego, Danielle began her career in commercial real estate.  In 2009, Danielle joined Meissner Jacquét Commercial Real Estate Services where she continues to provide professional marketing and sales services to drive corporate initiatives in delivering commercial real estate services to the firm's clientele, while garnering potential clients and maintaining current client relations. Danielle directly contributes to Meissner Jacquét's mission to enhance the ownership experience for our clients, to empower our team members, and to build professional, value-based relationships with our tenants, vendors, and industry organizations.
Meissner Jacquét is proud to have Danielle represent our company, NAIOP San Diego, and the commercial real estate industry, and we congratulate her on her leadership role within the Developing Leaders Council.
Sources:
Meissner Jacquet Commercial Real Estate Services