A leading factor in building occupancy is talent, and talent is a driver in corporate location decisions, planning, and business growth. A talent study recently released this year and produced by the San Diego Regional EDC, compared ten key U.S. metros – Seattle, Portland, San Francisco, San Jose, San Diego, Denver, Austin, Pittsburgh, Baltimore and Boston – with regard to highly-skilled scientific, engineering and technology talent, with the goal of proving that talent is a key factor in economic growth.
Due to the changing nature of building occupation, infrastructure and creative office space are becoming critical requirements of career seekers and employers. Successful economic regions must attract and retain talent by providing innovative workspaces, lifestyle, competitive wages, and economic opportunity.
Building occupation will not be a constant, so businesses will need to draw on metrics regarding office use. Consequently, financiers, owners and real estate developers will need to factor fluidity of occupation into their portfolios. Lewis Beck, Director of Workplace Strategy, CBRE
The commercial real estate industry supplies the structures that house the employers and talent, which contribute to economy vitality and quality of life. A dispersed real estate model with mixed facilities and multi-purpose environments will be the norm, in order to allow fast response to changes in user needs and to meet new occupier use patterns and demands.
Tight Industrial Inventory
Right now is a good time to own light industrial buildings — 50,000- to 250,000-square-feet — according to Rene Circ, Director of Research, CoStar Portfolio Strategy and other speakers, at a session during NAIOP's Commercial Real Estate Conference 2015 on growing demand for this product type.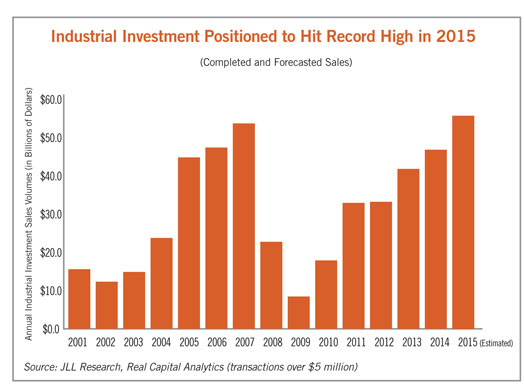 Speakers noted that industrial inventory is tight, pushing rents higher, and keeping the market tight for at least another two years before construction begins to catch up with demand. Until recently developers have not jumped into this market because light industrial buildings could be purchased for less than the cost of building new ones and cap rates on bulk Class A projects are at peak or past peak.
Context for Office Space Drives Demand
A bigger purpose is driving office demand and it coincides with the three P's – planet, people, and profit. Companies now have to prove to employees and commercial real estate players, including clients, tenants, and investors, that what their company does serves a larger purpose.
Mark Stapp, Executive Director of the Master of Real Estate program at Arizona State University, noted that boomers and millennials now want the same things — to live and work in vibrant, appealing, accessible places — and that is a big driver for CRE.
Employers added 15.3 million square feet of office space in the fourth quarter, more than any other quarter since the third quarter of 2007, according to real-estate research service Reis Inc. That pushed the vacancy rate down to 16.3%, while rents sought by landlords hit $30.86 a square foot, up from $29.94 a year earlier, according to Reis, which surveyed 79 markets.
Retail Driven by Personalized Experience
Much like with creative office space, "experience" continues to be the driving force behind brick-and-mortar retail leasing, with small-format grocery stores, as well as fitness and wellness facilities like gyms, yoga studios and massage services occupying space, while restaurants continue to generate demand. Yet the immense popularity of online shopping, done predominately by smartphones, acts to reduce retail footprints. A remedy to this may be the concept of showrooming, not only in terms of displaying goods to be touched and tried on before they are purchased online but also in terms of branding. However, those personalized experiences that cannot be achieved online — at least not yet — are still driving demand for retail space.
A study published by the National Bureau of Economic Research found that e-commerce and catalog sales combined grew by a factor of 10 between 1992 and 2013, moving from $35 billion to $348 billion in annual sales. At the same time, sales in the warehouse or supercenter category grew by a factor of 10.5, rising from $40 billion to $420 billion.
Summary
Changing demographics and economic vitality are causing markets and property types across the country to adapt in response, and commercial real estate professionals would prove prudent to invest in a diversified portfolio in order to reap the most reward. Meissner Jacquét Commercial Real Estate Services offers cost-effective solutions to a broad range of commercial real estate owners across all property types. Contact them today to learn about their Corporate Real Estate Services, including Leasing, Project Management, Acquisition / Disposition Due Diligence, Financial & Accounting Services, and Lease Administration.
Sources:
San Diego EDC, Talent: Where San Diego Stands, a Comparison of US Metros
NAIOP, Development Volume XLVI No. 4, Winter 2015/2016
Wall Street Journal