Overall market conditions for office properties in the San Diego market are continuing to show signs of stability, as evidenced by several positive market indicators.
The table below summarizes vacancy rates and rental rate data from CoStar Group, compiled by Integra Realty Resources – San Diego.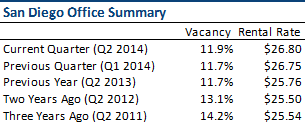 Currently, the office vacancy rate is approximately 11.9%. This is generally similar to the previous quarter and to one year ago. Over the past three years, the office vacancy rate has decreased slightly less than 3%. While this change is not significant, it nevertheless shows signs of an improving market.
The average office asking rental rate (gross) is $26.80 per square foot per year, a slight increase from the previous quarter, and about a 4% increase from one year ago. After a period of general stability over the past few years, rental rates are beginning to increase once again.
In addition to the above indicators, overall completions and net absorption figures were reviewed. The following data is from REIS, Inc., compiled by Integra Realty Resources – San Diego.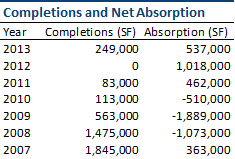 Construction began slowing down as the economic recession was felt in the late 2000's. By 2012, REIS, Inc. reported no completed office properties. However, in 2013, construction resumed with a reported 249,000 square feet completed. Based on current market activity, it appears that completions will continue to occur in 2014.
As with completions, absorption was affected by the latest economic recession with negative absorption numbers from 2008 to 2011. However, San Diego has experienced positive absorption for the past three years.
Overall, the San Diego office market continues to improve. Decreased vacancy, increased rental rates, newly completed office product, and positive absorption all indicate strengthening market conditions.
Sources:
REIS, Inc.
CoStar Group
Compiled by Integra Realty Resources – San Diego